One day in Nara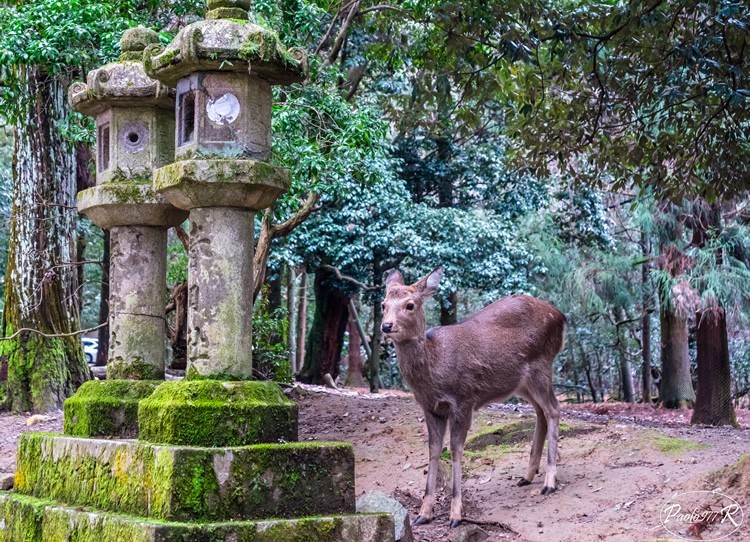 About 40 km from Kyoto we find Nara, an enchanting city rich in history and culture, the ancient capital of Japan from 710 to 794 AD.
The best way to reach Nara, both from Osaka and Kyoto, is by train, getting there is very easy! As soon as you come out of the JR or Kintetsu station, take Sanjo-dori, the shopping street, full of souvenir shops and, of course, restaurants!
But Nara is famous for something else, so let's head towards the park where we find the real curiosity of the city, the hundreds of deer that circulate free (sometimes even on the streets open to traffic!), Always waiting for a cookie and, sometimes, even more! At the entrance to the park we find the Kofuku-ji, with its 5-storey pagoda 50 meters high. This is the first of the Four Great Temples of Nara.
Also in the huge park we find the Shinto shrine Kasuga Taisha, immersed in a suggestive forest full of ancient lanterns and green moss. Getting lost in the paths lined with lanterns, breathing a fairytale atmosphere, is truly extraordinary! At every corner you discover new views and small temples immersed in the ubiquitous green moss, while here and there the inevitable deer peep out, always looking for something to eat!
Leaving the park we head towards Nigatsudō, a beautiful temple on top of a hill, which offers a splendid view of Nara. The small wood that surrounds it is also very suggestive, where there are ancient and now decadent temples, with a particular charm. Not far away, after a descent lined with traditional-style houses, here is the Todaiji, perhaps the most famous temple in Nara, whose heart is the Daibutsu-den, the largest wooden building in the world, inside which is located the large bronze statue of the Buddha.
In Same Category
Related by Tags